Notice close

The selected color (Distressed Brown) was not found. All available colors are listed below.
Hover over image to preview
This frame is best for: Average to Wide face width.
Description
Designer Collection by Jeepers
This frame is your new best friend, always looking out for your best interest. (Wink) Smart style, flattering lines.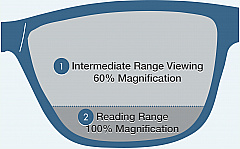 Anti-Reflective Computer Lenses
Computer Lenses, sometimes referred to as Office or Occupational Lenses, make it easy for your eyes to move back and forth between near vision tasks like computer work and reading printed material.
Computer lenses are a specialty type of progressive lens designed for today's world. Like any progressive lenses, they eliminate the need for multiple pairs of glasses. But more important, they give your eyes the focal length they need as they need it, greatly reducing eye strain.
1
. Select your normal reading magnification power and the lens will do the rest. The upper portion of these lenses allow for intermediate range viewing, perfect for computer, not to mention tasks like, cooking, sewing, following sheet music, drafting or reading blueprints, and many more uses.
2
. As you lower your focus to the bottom portion of the lens, the lens acts like any reading lens, making it easy to read cellphone screens, pill bottles, newspapers, or the latest best sellers. The included high quality Anti-Reflective Coating reduces eye strain even more, allowing you to enjoy your work and hobbies.
*Companion case included with each frame.
*Micro-fiber cleaning cloth included with each order.
Features
Lenses:
Lightweight optical quality plastic
Distortion free
Thin profile
Scratch resistant coating
Sizing and Details
Frame Measurements
Frame Width
140mm - 5 1/2 in
Nose Bridge
14mm - 1/2 in
Temple Arm
145mm - 5 3/4 in
Horizontal Lens
50mm - 2 in
Vertical Lens
38mm - 1 1/2 in
Nose Bridge
14mm - 1/2 in
Horizontal Lens
50mm - 2 in
Temple arm
145mm - 5 3/4 in
Vertical Lens
38mm - 1 1/2 in
Frame Width
140mm - 5 1/2 in
This frame is best for:
Average to Wide
face width.
Narrow Fit:
Designed to look and fit best on slender and smaller facial features.
Average Fit:
Designed to look and fit best on average size and width facial features.
Wide Fit:
Designed to look and fit best on wider and larger facial features.
Features
About Jeepers
Jeepers offers the latest designs in Reading Glasses, Sun Readers & Bifocals at ReadingGlasses.com, where there is free shipping and returns on all orders every day!
Very happy with my purchase
I had to start wearing readers a couple of years ago, but my computer screen had become a problem...too far for my readers, but still close enough to be a bit blurry. These glasses have fixed both issues without the pesky line of bifocals. The quality is good, and the frames are attractive. The only thing that would make them better is if they also had a small uncorrected section at the top of the lens for looking at people/things at longer distances. The price was good for such an attractive frame and functional lens. I'm very happy with my purchase.
Michael D. Location: Plano, TX March 07, 2017
Perfect
These glasses are very sturdy and fit as advertised - will buy another pair as backup.
Harry Bushe Location: Worcester, MA December 22, 2016
too tight for my big head
Apparently my head is bigger than wide width. This would be a great pair of glasses if it were wider. I am disappointed.
Steve Millett Location: Saint Louis, MO September 29, 2016
Great Glasses
These are great, high quality glasses. I get compliments on them all the time. I'm a writer and the computer style progressive works perfectly for computer and reading...I highly recommend them!
Dave W. Location: Frisco, TX August 24, 2016
Perfect!
Looks great, works wonderfully...exactly what I wanted and needed. With my Rx glasses, the progressive portion wasn't quite right for my desk and computer - had to tilt my head way back to see clearly. These, though, are perfect - my neck is much happier and so am I!
Sherri Paxon Location: Frederick, MD August 02, 2016
Great computer glasses
I work with a computer and need to see the top of the screen clearly so standard progressives don't work. I was actually getting a sore neck from tipping my head up so I could read.
These are helping a LOT
John M Painter Location: Nashville, TN January 24, 2016
Not suited for my neefs
The CL lenses did not have enough unmagnified area for my needs. (Truck Driver)
Great for desk work though.
I returned theM and purchased regular no line progressives.
Anthony Terranova Location: Farmingdale, NY March 27, 2015
sturdy
The Mr Drysdale is a very good pair of glasses. I use them for reading and computer work. Sturdy enough that my 1 year old grandson has not broken them.
Stephen Sousa Location: Boston, MA February 02, 2015
Works well for comps and pretty much everything
I have some of the single strength glasses, and also tried the regular progressive style. I found the progressive to be a bit difficult, because for me, the usable magnification area seemed really small. I asked them if this would be the same, and they said that it would be better. They were right... These don't have that problem really. These work for more than computers. The mixed magnification means that... you can look across a counter, and have both the back and front, be pretty much in focus. You can look through the tops for arms length stuff, then tilt up a bit if you want to get closer with the bottom section. The distortion around the edges is a little worse than single magnification, but not too bad.
Dave Location: CA December 04, 2014
They are Great
The frames are cool looking and comfortable. The progressive lenses work great, no distortion. Delivery was quick. I would buy again from ReadingGlass.com.
D Smith Location: MI November 14, 2014
Dedicated to delivering the very best
shopping experience on the web. Seriously. Seriously.
About Us
Useful Links
Company Information
ReadingGlasses.com
1003 Dragon Street
Dallas, Texas 75207