Hover over image to preview
This frame is best for: Average to Wide face width.
Description
Designer Collection by Ray-Ban
Ray-Ban, the most recognizable name in eyewear. This iconic collection includes classic shapes with genuine and authentic style. Rock star famous and legendary cool. Make it your own.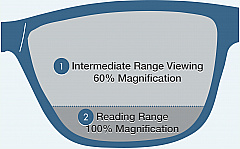 Anti-Reflective Computer Lenses
Computer Lenses, sometimes referred to as Office or Occupational Lenses, make it easy for your eyes to move back and forth between near vision tasks like computer work and reading printed material.
Computer lenses are a specialty type of progressive lens designed for today's world. Like any progressive lenses, they eliminate the need for multiple pairs of glasses. But more important, they give your eyes the focal length they need as they need it, greatly reducing eye strain.
1
. Select your normal reading magnification power and the lens will do the rest. The upper portion of these lenses allow for intermediate range viewing, perfect for computer, not to mention tasks like, cooking, sewing, following sheet music, drafting or reading blueprints, and many more uses.
2
. As you lower your focus to the bottom portion of the lens, the lens acts like any reading lens, making it easy to read cellphone screens, pill bottles, newspapers, or the latest best sellers. The included high quality Anti-Reflective Coating reduces eye strain even more, allowing you to enjoy your work and hobbies.
*Companion case included with each frame.
*Micro-fiber cleaning cloth included with each order.
*Note: Not available for sale outside USA.
Features
Frame:
Optical grade plastic
Spring hinges
Lenses:
Lightweight optical quality plastic
Distortion free
Thin profile
Scratch resistant coating
Sizing and Details
Frame Measurements
Frame Width
135mm - 5 1/4 in
Nose Bridge
18mm - 3/4 in
Temple Arm
140mm - 5 1/2 in
Horizontal Lens
52mm - 2 1/8 in
Vertical Lens
29mm - 1 1/8 in
Nose Bridge
18mm - 3/4 in
Horizontal Lens
52mm - 2 1/8 in
Temple arm
140mm - 5 1/2 in
Vertical Lens
29mm - 1 1/8 in
Frame Width
135mm - 5 1/4 in
This frame is best for:
Average to Wide
face width.
Narrow Fit:
Designed to look and fit best on slender and smaller facial features.
Average Fit:
Designed to look and fit best on average size and width facial features.
Wide Fit:
Designed to look and fit best on wider and larger facial features.
Features
About Ray-Ban
Find the most styles Ran-Ban Reading Glasses, Sun Readers, Sunglasses and Bifocals at ReadingGlasses.com where shipping and returns is free on all orders every day!
Perfection
I love,love,love my new glasses. They are sturdy and fashionable and the perfect fit. If you are conflicted about your purchase don't be...just hit the purchase button and prepare to look good
K.D Location: Memphis, TN November 18, 2016
Perfect solution
I bought these for work. They're perfect for both distances- computer screen and reading. Very nice weight, high quality no line bifocals.
DDH Location: Chesterton, IN October 11, 2015
Dedicated to delivering the very best
shopping experience on the web. Seriously. Seriously.
About Us
Useful Links
Company Information
ReadingGlasses.com
1003 Dragon Street
Dallas, Texas 75207