Hover over image to preview
This frame is best for: Average face width.
Description
Designer Collection by Porsche Design

For the fashion purist, luxury Porsche Design reading glasses offer functional form and iconic aesthetic. Embrace this signature look with each style offered on readingglasses.com. Quality frames come with scratch-resistant, distortion-free A/R Anti- Reflective Lenses.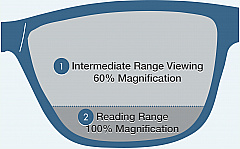 Anti-Reflective Computer Lenses
Computer Lenses, sometimes referred to as Office or Occupational Lenses, make it easy for your eyes to move back and forth between near vision tasks like computer work and reading printed material.
Computer lenses are a specialty type of progressive lens designed for today's world. Like any progressive lenses, they eliminate the need for multiple pairs of glasses. But more important, they give your eyes the focal length they need as they need it, greatly reducing eye strain.
1
. Select your normal reading magnification power and the lens will do the rest. The upper portion of these lenses allow for intermediate range viewing, perfect for computer, not to mention tasks like, cooking, sewing, following sheet music, drafting or reading blueprints, and many more uses.
2
. As you lower your focus to the bottom portion of the lens, the lens acts like any reading lens, making it easy to read cellphone screens, pill bottles, newspapers, or the latest best sellers. The included high quality Anti-Reflective Coating reduces eye strain even more, allowing you to enjoy your work and hobbies.
*Companion case included with each frame.
*Micro-fiber cleaning cloth included with each order.
Features
Frame:
Titanium
Micro-spring hinges
Lenses:
Lightweight optical quality plastic
Distortion free
Thin profile
Scratch resistant coating
Sizing and Details
Frame Measurements
Frame Width
138mm - 5 1/2 in
Nose Bridge
18mm - 3/4 in
Temple Arm
145mm - 5 3/4 in
Horizontal Lens
55mm - 2 in
Vertical Lens
34mm - 1 3/8 in
Nose Bridge
18mm - 3/4 in
Horizontal Lens
55mm - 2 in
Temple arm
145mm - 5 3/4 in
Vertical Lens
34mm - 1 3/8 in
Frame Width
138mm - 5 1/2 in
This frame is best for:
Average
face width.
Narrow Fit:
Designed to look and fit best on slender and smaller facial features.
Average Fit:
Designed to look and fit best on average size and width facial features.
Wide Fit:
Designed to look and fit best on wider and larger facial features.
Features
About Porsche Design
Shop ReadingGlasses.com for the best selection of Porsche Design Reading Glasses, Sun Readers, No Line & Bifocal Reading Glasses for men & women. FREE Shipping and Returns.
Dedicated to delivering the very best
shopping experience on the web. Seriously. Seriously.
About Us
Useful Links
Company Information
ReadingGlasses.com
1003 Dragon Street
Dallas, Texas 75207