Notice close

The selected color (Havana - 24) was not found. All available colors are listed below.
Hover over image to preview
This frame is best for: Average face width.
Description
Designer Collection by Persol
Cosmopolitan and cultured. Sophisticated and understated. The flash of the silver Supreme Arrow on Persol sunglasses is instantly recongnizable. It is the ultimate Italian status symbol. Each handcrafted Persol frame takes eight days to complete. Many of the Persol frames feature the patented flexible temples.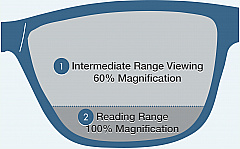 Anti-Reflective Computer Lenses
Computer Lenses, sometimes referred to as Office or Occupational Lenses, make it easy for your eyes to move back and forth between near vision tasks like computer work and reading printed material.
Computer lenses are a specialty type of progressive lens designed for today's world. Like any progressive lenses, they eliminate the need for multiple pairs of glasses. But more important, they give your eyes the focal length they need as they need it, greatly reducing eye strain.
1
. Select your normal reading magnification power and the lens will do the rest. The upper portion of these lenses allow for intermediate range viewing, perfect for computer, not to mention tasks like, cooking, sewing, following sheet music, drafting or reading blueprints, and many more uses.
2
. As you lower your focus to the bottom portion of the lens, the lens acts like any reading lens, making it easy to read cellphone screens, pill bottles, newspapers, or the latest best sellers. The included high quality Anti-Reflective Coating reduces eye strain even more, allowing you to enjoy your work and hobbies.
*Companion case included with each frame.
*Micro-fiber cleaning cloth included with each order.
Features
Lenses:
Lightweight optical quality plastic
Distortion free
Thin profile
Scratch resistant coating
Sizing and Details
Frame Measurements
Frame Width
137mm - 5 3/8 in
Nose Bridge
18mm - 3/4 in
Temple Arm
140mm - 5 1/2 in
Horizontal Lens
52mm - 2 1/8 in
Vertical Lens
35mm - 1 3/8 in
Nose Bridge
18mm - 3/4 in
Horizontal Lens
52mm - 2 1/8 in
Temple arm
140mm - 5 1/2 in
Vertical Lens
35mm - 1 3/8 in
Frame Width
137mm - 5 3/8 in
This frame is best for:
Average
face width.
Narrow Fit:
Designed to look and fit best on slender and smaller facial features.
Average Fit:
Designed to look and fit best on average size and width facial features.
Wide Fit:
Designed to look and fit best on wider and larger facial features.
Features
About Persol
ReadingGlasses.com offers a variety of Persol Reading Glasses, Sun Readers, Sun Glasses and Bifocals. Get free shipping and returns on all orders every day when shopping at ReadingGlasses.com
Beautiful
Well made very satisfied .
Reading glasses. Com keep up the good work . Excellent company& customer service
Jamellah Muhammad Location: Center Moriches, NY April 11, 2017
Superior Euro Quality
Very high end euro quality and style frames. Hinges and arms feel very strong, and the gray/blue mat frames are unusual, and quite cool, especially if you have blue eyes and some gray flex in your hair. The computer lens, help me feel much less tiered at the end of the day wearing them and working on the computer, than i did with my prior cheap drug store single vision lenses.
Jeremy P Location: Houston, Texas August 22, 2016
Dedicated to delivering the very best
shopping experience on the web. Seriously. Seriously.
About Us
Useful Links
Company Information
ReadingGlasses.com
1003 Dragon Street
Dallas, Texas 75207